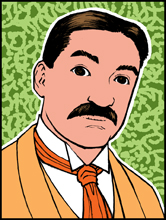 L. Frank Baum
And so the world of Oz went mostly unknown until L. Frank Baum and W.W. Denslow produced The Wonderful Wizard of Oz in 1900. While the book was described and marketed as a "novel" and a "fairy story for children" Baum was always forthright about Oz being a real place and his books being merely histories.
Lyman Frank Baum was born in 1856 in New York, the son of a wealthy businessman. He never cared for his first name, preferring to go by Frank instead. Though he took to writing at an early age, even publishing several journals as a teenager, he didn't publish his first book until 1886. That was The Book of the Hamburgs, a treatise on the raising of Hamburg chickens. He wrote plays and newspaper columns, edited magazines and eventually earned his living writing books for children. He eventually published over 70 books, both in his own name and under a variety of pseudonyms.
It was in 1889, while living in Aberdeen, in the Dakota Territory, that he first met young Dorothy Gale. At the time he was editing a local newspaper, The Aberdeen Saturday Pioneer. She had recently returned from her first adventure in Oz. They struck up a friendship and continued to exchange letters long after both had left South Dakota for better places.
In 1900, with Dorothy's permission, Baum began using the stories she'd told him as a basis for the Land of Oz histories. By that time Dorothy had moved to Oz on a permanent basis and Baum mostly had to rely on her letters and his own memory, slightly supplemented by his imagination, for events in the books. Because of this descriptions of the country and culture of Oz were often inconsistent from volume to volume. He got some events out of order, occasionally he added humor where times had been grim and he left out other details entirely but, overall, he tried to stick with the facts as they had been related to him.
Baum never visited Oz himself. He did meet Ozma and some of her court in 1904 during her secret American tour. At that time she commissioned him Historian for the Land of Oz in the Americas, by Royal Appointment of Her Majesty, Princess Ozma, Ruler of Oz. Baum simplified the title to Royal Historian of Oz and used it proudly until his passing in 1919.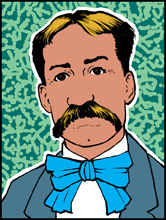 W.W. Denslow
Baum's illustrative collaborator on the first Oz history was William Wallace (W.W.) Denslow. Born in 1856 and a prolific working illustrator/designer since his late teens, Denslow is mostly remember today for his work on Wizard.
He was an energetic, eccentric sort, prone to hard work and hard drinking. He was married and divorced three times. Between 1899 and 1906 he illustrated over twenty best selling childrens' books. He drew comics strips and wrote plays and musicals. With the profits he purchased a small island in Bermuda and declared himself King Denslow the First.
For many people it is Denslow's illustrations that form their picture of Oz. What is even more remarkable is how accurate those illustrations were. Denslow did not meet Dorothy or any Ozites until 1904, four years after he'd completed the illustrations for Wizard. For that history he only had Dorothy's letters, Baum's second hand memories and one faded photo of Dorothy from which to interpret and illuminate the Land of Oz.
While it is true that Denslow and Baum quarreled over the rights to Wizard and during their collaboration on the 1902 musical adaptation of the book it was Ozma's 1904 American visit that ultimately turned him away from creating further illustrations of Oz. For Denslow this encounter with Fairyland proved to be a harrowing experience. He had met creatures that he thought he had only been imagining and he had seen things that he could never properly describe afterwards. Though he produced a short series of comic strips illustrating some of the highlights of Ozma's visit he avoided drawing Oz scenes after that year.
He passed away in 1915 after a sudden illness.